We are opening up our doors again to showcase Pat Mahony's exciting new solo exhibition which will run from October 21st to November 28th!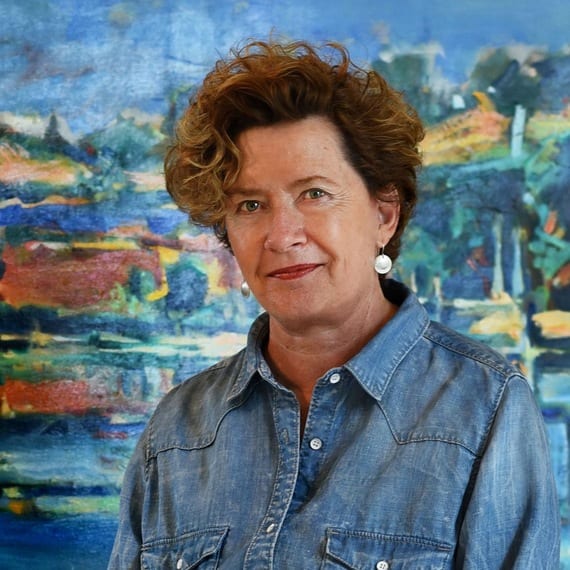 Pat Mahony in front of one of her paintings
Pat Mahony, Small Pond Study, 2020, oil on canvas
Pat Mahony, Stormy View Athens, 2020, oil on canvas
After months of anticipation, the John Natsoulas Gallery has finally reopened its doors for the upcoming solo exhibitions of Pat Mahony and Yoshio Taylor. In love with landscape- and the idea of landscape as an abstraction- Pat Mahony has lovingly expanded on a very vivid and beautiful oeuvre since first exhibition her watercolor urban scenes. Mahony's ability to manage and juxtapose fields of radiant color is perhaps her greatest achievement. Drawing on an extraordinary sensibility for the permutations of natural light, Mahony makes the most unseemly and unlikely combinations into beautifully coherent works- so much so that each work seems not just striking but inevitable.
The trajectory of Pat's career has been anything but normal. After 11 years as a stockbroker, she achieved national recognition with her watercolor paintings of urban architectural scenes. Long associated with the Sacramento Valley school, Mahony then explored oil paint, the still life, the figure and landscapes- all while steadily veering away from representation toward her goal of complete abstraction. 
Rejecting strict representation just as thoroughly as she rejects complete non-objectivity, Mahony found a middle ground of sorts where she is free to explore the physical, bodily nature of our experience of the world around us. Mahony adjusts her representational style so that the flowers, objects, or figures are often recognizable as such but simplified so as not to be portrait-like or realistic.  Viewer identification of the subjects is but a part of the viewing experience, with spaces between objects and shapes of objects and their component parts all of interest because of the artist's expressive handling of each.  Her subjects becomes an opportunity for Mahony to transform, to convey through color her state of mind, to encourage viewers to see how complex the visible world is and how exciting a source from which to create and improvise.
Pat Mahony is largely inspired by German impressionism and expressionism, particularly Wolf Kahn. The tradition of color field painting also pervades the work of Mahony, a self-proclaimed "colorist." Mahony also cites all-over painting as especially influential in her newer, more abstract work. Her fusion of these traditions reveals her deep knowledge of art history. Movements of the past inform her selected vocabulary and approach, enabling her to see anew and inspiring viewers to do the same.
Pat Mahony, Yellow Sky, 2020, oil on canvas
Pat Mahony, Tuscany View, 2020, oil on canvas
Mahony's goal remains a complete departure from representation toward total abstraction. Paintings like View Through the Trees suggest her growing ability to distill and reduce color and gesture to its sparsest, most essential expressions. The foliage is depicted as amorphous areas of leaf color and sporadic brown lines help indicate what we're supposed to be seeing. Mahony's transcendent union of her painting's formal qualities and her uninhibited, physical expression formulates these paintings into a single vision.
Antique Roses is among Mahony's newest work and demonstrates her aptitude for combining organic and geometric forms. Painted on a canvas surface, this work stands astride abstract and representational realms and silently invites viewers to discover or discern the subject matter while simultaneously delighting in the effects of color and varied texture. Mahony's application of thick paint, use of areas of strong color, and division of these color areas through heavy linear elements, all constitute stylistic similarities to some of her earlier work.
Pansies #4 refers in its title to previous paintings in which Mahony used this subject as a vehicle for explorations relating to space, texture, and color. She does not so much paint the subject in question but instead render its essence on canvas as it were a memory that has been filtered through multiple exposures and observations. This piece then is less representational than it is descriptive or interpretive. 
In the foreground of Mahony's newer paintings, like Yellow Leaves, are gestural marks that stand for blades of grass, twigs, perhaps small shadows produced by footsteps or the wind.  Mahony paints many of her landscapes before the scene or feature itself and therefore is frequently immersed in the environment that fascinates her.  Her casually or spontaneously applied marks are in keeping with the abstract sensibility that characterizes most of her recent work, but the abstract beauty of the artistic gesture is perhaps only part of these marks' appeal.  
Her mark-making methods in certain areas have been a result of imitations of natural processes. Mahony explains, "I have tried to match the wildness of nature with a wild and physical application of paint."  In other words, like the wind can reach down, grab a twig, and deposit it several feet away, so too can Mahony as an all-powerful creator touch her brush upon the canvas and move her arm quickly, thus placing a mark upon the surface where one could not previously be found. While Mahony is a skilled artist in careful control of her composition at all times, she has found the freedom to not just transcribe her subject but also delight in mimicking the very forces of nature that sculpted the wonders set before her.
By Tahlia Aghily